Press & Media
Brittania-U Chairman Honoured By Ohio State Government In The United States
November 25, 2014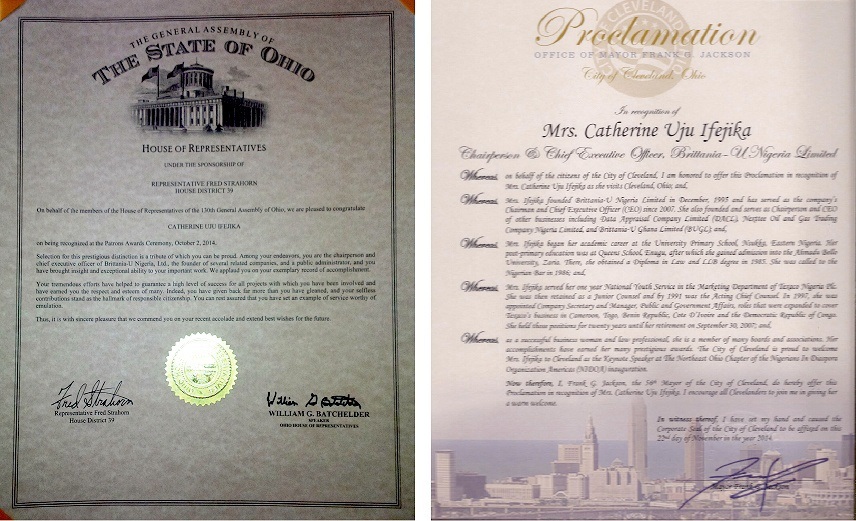 Chairman and CEO Mrs Catherine Uju Ifejika received further foreign recognition for her services to business in Nigeria. This time Mrs Ifejika has been honoured by Ohio State in the United States.
On 22nd November, 2014, in recognition of her status as an accomplished businesswoman and world-class citizen she received a hearty welcome from the Mayor himself Frank G. Jackson during a visit to Cleveland. Haven sited her accomplishments the Mayor issued a proclamation, urging all Clevelanders to join him in giving Mrs. Ifejika a warm welcome. Brittania-U's CEO was in town to deliver the keynote speech at the Northeast Ohio Chapter of the Nigerians in Diaspora Organization Americas (NIDOA) inauguration.
Earlier in the year, she was also honoured with a Patrons Award by the Ohio State House of Representatives under the sponsorship of Representative Fred Strahorn, House District 39. The selection for this distinction was primarily based on her exemplary record of achievements and selfless contribution to society.
Given the sheer drive and determination of Mrs. Ifejika to take the Brittania-U group to even higher grounds, we can look forward to more accolade and awards of this type in the future.